I'm happy to be here today for AAA Cards Game #69 – Stash Favorite.
Thank you to our sponsor:
This week we have a special guest designer joining us, Ksenija of Sweet Kobylkin.
Welcome, Ksenija, we are so happy to have you with us!
🙂
STENCILS!
I love ink-blending and using stencils. Besides butterfly stamps and dies, stencils are definitely a stash favorite of mine!
The particular stencil which I used for the card featured in this post is definitely a favorite from my stash.
I've used it in many different ways, from CAS cards to Mixed Media mini calendar pages. I haven't tired of using it. It is truly does make me 'happy' when I get to use it!
Here's a card I made using the Happy Flowers ARTplorations Stencil:
As I made this card, it was rainy and the wind was blowing. I was feeling a bit blue – my husband was away for the week.
The sentiment is from Papertrey Ink's Choose Joy Stamp Set.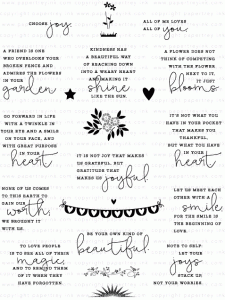 I made this card using muted colors as opposed to the usually vibrant palette I'm accustomed to using.
I stenciled with a pink ink for the blossoms and green for the stems. Next I moved the stencil, slightly to the left side of the original image and repeated the stenciling. This time I stenciled with yellow ink through the entire image. The slightly off center stenciling makes the flowers appear as if they are blowing in the breeze.
I hope that you are inspired to play along. Make sure you stop by AAA Cards and visit all of the design team members blogs.
Here are 3 galleries of some of my other stenciled projects from the past year.
All photos below are
>CLICKABLE<
If you'd like to know more about a particular card, please click on it. A new tab will open for you and you'll be taken to the original post for that card. 🙂
Here, I have Gallery 1: Clean and Simple – CAS, like what we'd like to see you entering into our challenge at AAA Cards this week.
So, I'd consider the first 4 cards to be quite CAS. (Five if you were to include today's post's card.) What do you think?
Now on to the cards in Gallery #2 – those which I would consider borderline CAS and Mixed Media CAS.
And here I have Gallery #3 with some of my favorite mixed media, and decidedly NOT CAS stenciled projects.
Like I said, besides butterfly stamps, stencils are definitely a stash favorite!
I'd like to remind you that AAA Cards is, as indicated by our name, indeed a card challenge. If you'd like to be considered for a win remember to keep your card entries
CleanAndSimple! 🙂
Thanks so much for stopping by!
Grace & Peace,
Melissa
How to Enter:
Link up your CAS card
Mention us in your post
Display our challenge image
Leave a comment on three other blogs – let's spread the love!
Remember
to keep it
Clean

A

nd

S

imple
P.S. I have a Craft Space Tour post up for CASology's Featured Designer series.
Places I'm Playing:
Save