Another challenge from PTI's 9th Anniversary Celebration! This time the challenge was to create a new project that is created with supplies you grab and gather together in 5 minutes.
This one was pretty easy for me because I'm away from home and have a limited amount of my crafting supplies!
Here's my card:
I used this stamp set: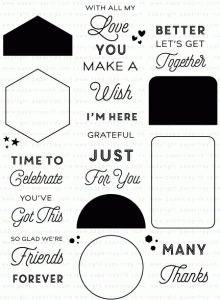 and some ink!
Quite straight forward. Stamped black circles, added colored semi circles and sentiment. Sort of a non-traditional Valentine card, but I'm going to give this one to my almost-17-year-old son. 17!? 😦 He is turning into an incredible young man. (Oh and my eldest daughter turns 20 in March. ) Wow! That went fast!
I'd like to play this at CASology's Week 184, SSS Wednesday's Challenge: Simon Says: One Layer, Word Art Wednesday's: Challenge #219: Anything Goes.
Thanks for stopping by!
Grace & Peace,
Melissa
P.S. My family and I are away from home now, in the Oberammergau area. (Oberammergau is a municipality in the district of Garmisch-Partenkirchen, in Bavaria, Germany). We had been hoping for lots of snow, but the ground was bare when we got here! Two nights ago God granted our pleas and sent some snow our way. My kids went sledding yesterday and had a BALL!
See the tiny snowman that one of my younger daughters made? 🙂
P.P.S. Have you heard of Takeo Ischi? 🙂 He makes me smile!