I am excited to be here today with a couple of cards for The Mixed Media Card Challenge's reminder post.
Here's our December Challenge Graphic:
Here is the first one: This is card #5 in my series of holly cards.
I started this card by doing a sketch/watercolor painting of some holly which I had picked from my yard.
Then, I scanned the painting into my computer and printed out several copies in order to be able to play with this image. I wanted to be able to render it in multiple different mixed media ways.
  I'd like to play this card at Virginia's View Challenge #21: All About Glitter and Simon's Monday Challenge: Just a Pinch (Stickles/Glitter). Anything Goes. The holly on my first card reminds me of a 1950's illustration. After I had finished coloring this one in I went looking for a 1950's holly card.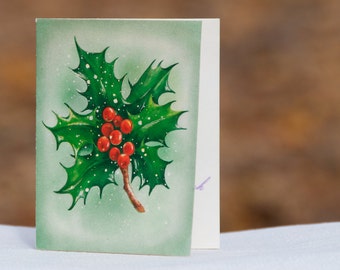 And this is what I found! 🙂
Card #6 in this holly series:
Please check back at The Mixed Media Card Challenge Blog on the 22nd of December for some more cards that I've made with this image.
Thanks for stopping by!
Grace & Peace
Melissa

Please click the photo below to see the other cards in this series:
Places I'm Playing:
HOW TO PLAY
1. Create a mixed media CARD based on the theme, with or without the optional element.
2. Display the challenge graphic on your blog post and link back to this challenge post.
3. You may enter as many times as you want, as long as each entry is different.
4. You may combine a maximum of 7 challenges (6 other challenges plus ours).
5. Submit your projects by December 25, 11:55 p.m. Pacific (GMT-8).
6. We'll announce the winner and highlights on December 31.